Ready-Made Websites for Missionaries
Just fill out a form and we will create a beautiful website for your ministry.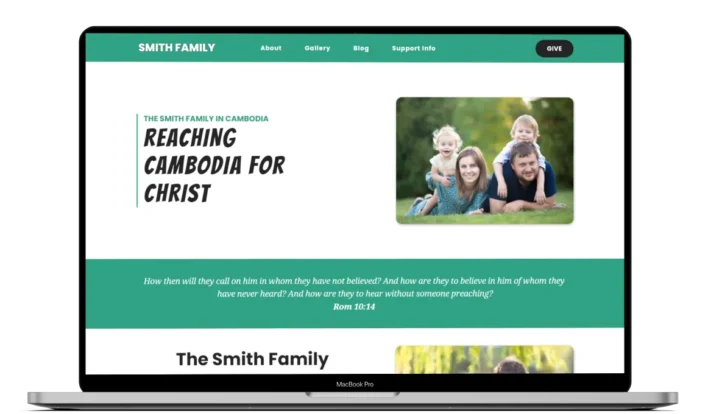 Why Should You Get a Missions Website?
We created our websites specifically for missionaries. It helps you raise support and keeps your supporters updated with the built in blog.
You don't need to be techie. We add your photos and text, connect your social media accounts, make color adjustments, connect your domain, and more.
Get to the mission field faster. Our missionary websites are crafted specifically for missionaries needing to raise support.
We are an American team. After your website is launched, we will be available to help with any problems. We will be your tech team, so you don't have to be.
There isn't an easier way to get online, guaranteed! Just fill in our onboarding form and we will do the rest. Get online in less than a week!
We created Missions Websites primarily to help missionaries in their ministry, so we keep our prices affordable. But we still charge enough to offer premium services.
What website platform do you use?
We use WordPress, the world's most popular website content management system.
How do I make changes to my website?
You will be given access to your WordPress account. We include a subscription to one of the world's leading drag-and-drop editors with every purchase. You can easily make changes without coding.
Can you help me get started with my website?
Yes, all you have to do is fill out our form. We will do the rest.
Can I get a business email address?
Yes, just let us know what you would like such as "yourname@yourdomain.com" and we will set it up for you.
Does the website have security features?
Yes, we have security features that block bots and hackers. You can password protect webpages, and block users from certain countries from accessing your site. But we advise to never upload confidential photos or information.
No, but we offer a 14-day trial period. Just cancel your membership within 14 days, and your credit card will never be charged.
Are there any hidden costs?
No, there are no surprises.
How do I get a domain name?
A free domain is available to all paid subscribers. Also, if you already have a domain name, we can help you point it to our servers.
Just click cancel in your membership account. Your website will remain active until the expiration date.
What support do you provide?
We do 100% of the website creation for you. After the website is launched, we are available to help if there is ever a problem. If you need custom design or extra functionalities, we can help for an extra fee. Just talk to us.
Looking For Custom Development?
Fill out a simple form and we will get you a quote!

"Missions Websites helped me build a beautiful website for my Japanese Language ministry for Missionaries coming to Japan. They provided everything I needed. My website has allowed me to connect with many missionaries."
We are gospel partners first, and web designers second. It is our greatest desire to see the gospel message proclaimed to the ends of the earth.