Freebies included!
As a missionary, I raised my own support. After some trial and error, I eventually raised my full monthly support. I also successfully raised over $30,000 for a project. I created this article to help missionaries avoid common mistakes, and get fully funded as fast as possible!
Develop Your Missionary Fundraising Mindset
The first step is to gain an understanding of what missionary fundraising is and what it is not. You should approach fundraising as an opportunity to invite people to join what God is doing through your ministry.
Staying motivated while raising support can be challenging if you are simply asking people for your monthly living expenses. However, it is easier if you request support for the work that God is accomplishing in the lives of the individuals that you are serving.
Read "The God Ask" by Steve Shadrach to help you gain the correct mindset. You should unapologetically give others the opportunity to join the work that God is doing through your ministry. Here is a list of missionary fundraising books that we recommend.
Build a Missionary Email List
As soon as possible start building your email list and keep sending regular email updates. Start by adding your family, friends, church groups, and pastors. An email list is the foundation of your support-raising efforts.
You should print a form for people to fill out their name, email address, and phone number. Put the form on a clipboard with a pen and whenever you speak at churches or bible studies pass around this form.
Here is a premade PDF sign-up form that is ready to print.
Track Your Supporters and Finances
It is important to keep records of your supporters and finances. Excel is the recommended software for this.
I've created an Excel spreadsheet that is specifically designed for missionaries. You can keep track of your supporter's giving, see your support raised %, record emails and notes, and more.
Here is the link to the Support Raising Excel File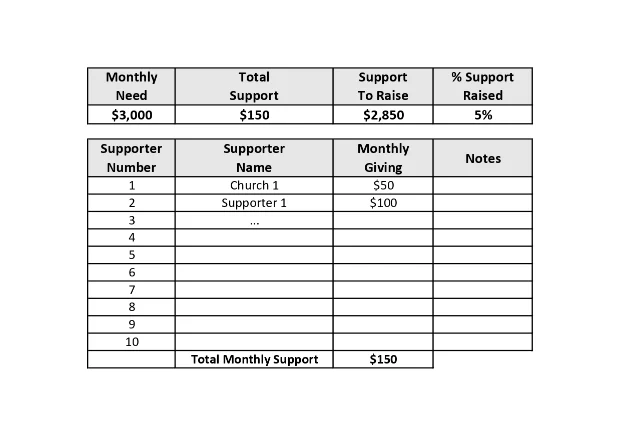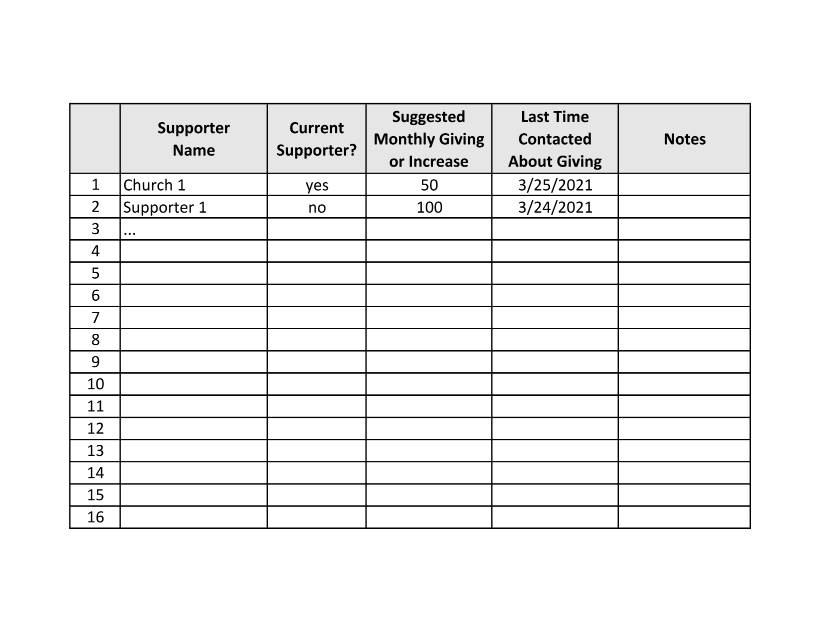 Start Writing Engaging Update Emails
Think of an interesting subject line. Such as "Our Exciting Trip to the Village" rather than "January Newsletter"
Include interesting stories
Include pictures that illustrate the story and help the reader see what your ministry looks like
Send Emails at suitable times, such as the mornings, or weekends when people have more time to read emails.
Go on a Missionary Vision Trip
Go on a short-term vision trip, organized by yourself or a mission organization. You will be able to experience firsthand what it is like to serve as a missionary in a different country or culture. The purpose of the trip is to help you determine if you want to become a long-term missionary. Also, your trip will play a big part when support raising.
During your vision trip make sure to take lots of pictures, you can use the pictures in your missionary newsletters and PowerPoint presentations.
Please keep your email list updated while on the field, they will be excited when you return and ready to hear about your trip.
Create a Missionary Prayer Card
A missionary prayer card is an essential part of support raising. Hand out the prayer cards whenever you share about your missionary vision.
Make sure to include your email and missionary website URL.
To make a professional prayer card visit Commission Creative.
For the DIY crowd, you can use this template on Canva. Once you are done, you can print the 4×6-inch postcard at vistaprint.com.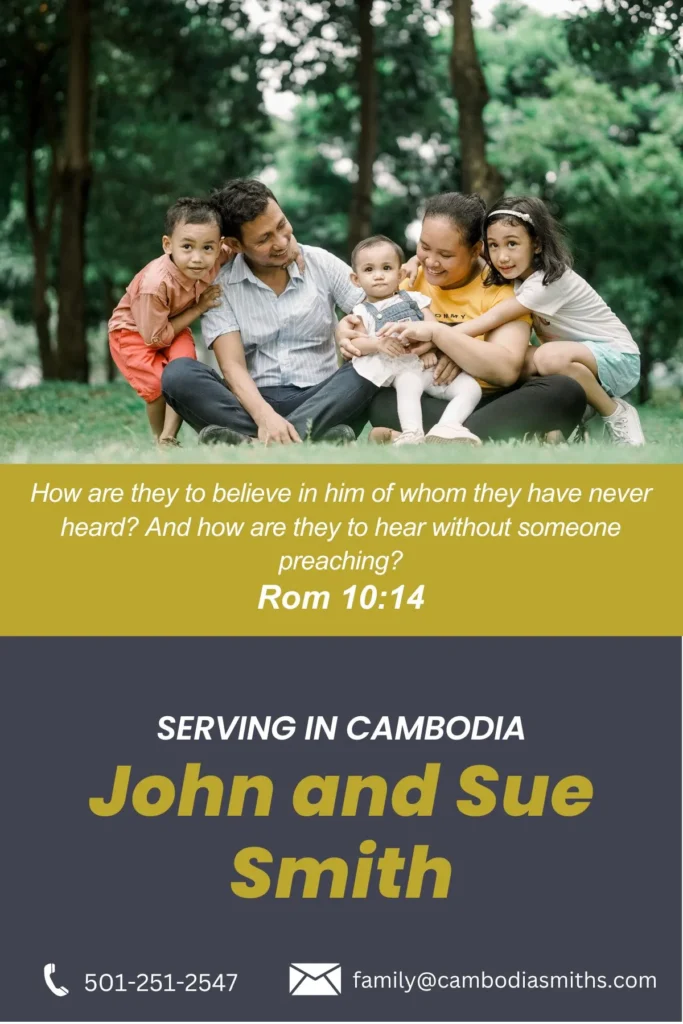 Create a Missionary Website
A missionary website acts like your 24/7 fundraising assistant. It can display your pictures, share your story, and directly link to your support page. It is the one place that everyone can go to find out more about you and your ministry.
MissionsWebsites.com can help you create a beautiful website for an affordable price. All you have to do is fill out a form and upload some pictures, we will do the rest! To learn more visit missionswebsites.com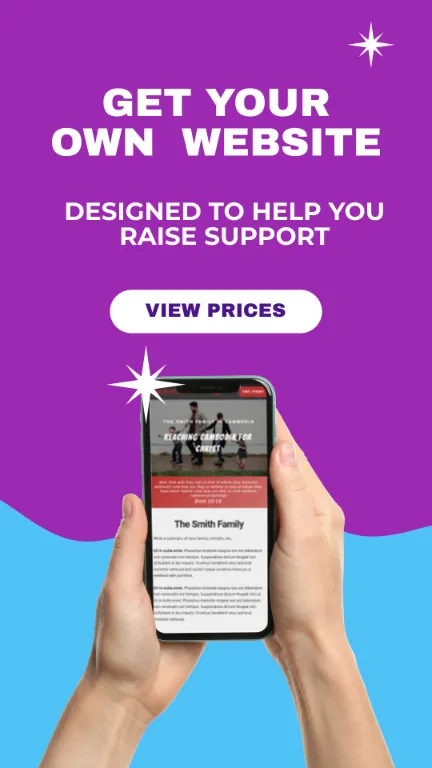 Make a Support Remaining Chart
Once you have a few supporters, make a support-remaining chart. This is a visual chart that displays how many people you need at different amounts to reach your fundraising goal.
We made a template that you can use for your ministry. It is an editable Canva Template
View the editable support remaining chart template here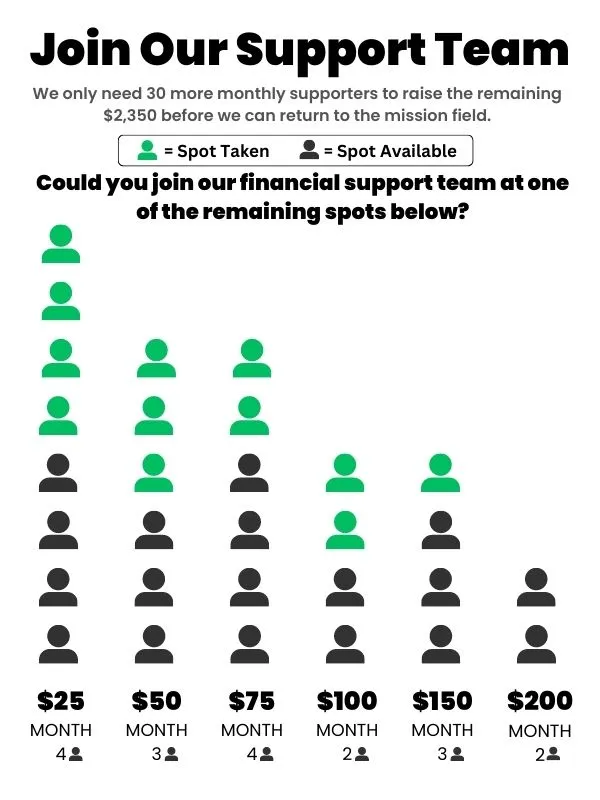 Make a Fundraising Thermometer
As you start approaching your fundraising goal, you can display this thermometer to your supporters. Hopefully, as you get closer it will encourage the last few people to join your team.
View our editable Canva thermometer template here.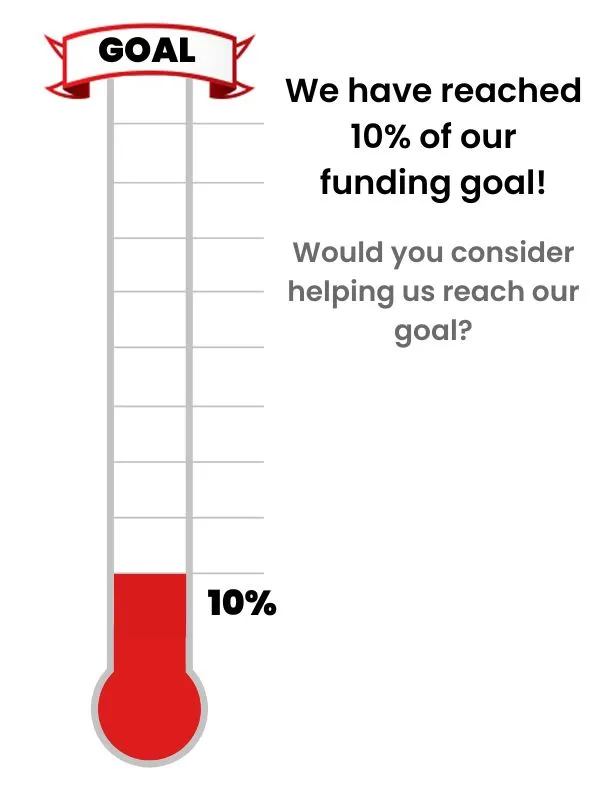 Create a Missionary PowerPoint Presentation
Make a PowerPoint presentation with a lot of pictures and minimal text. Many churches will give missionaries between 3-10 minutes to present their mission during the Sunday church service. Edit the presentation for different lengths of time.
Here are a few key points for creating and delivering an effective presentation.
Keep it Short and Engaging: Make your pitch brief, preferably no more than 10 minutes long. The attention span of potential supporters is limited.
Tell a Compelling Story: Use storytelling to help potential supporters understand the impact of their donations. Share personal stories of how your organization has made a difference in the lives of those you serve. This helps supporters to connect emotionally with your cause and make it more meaningful to them.
Focus on the Benefits: Don't emphasize the benefits to you, but instead, emphasize the benefits to the people you are ministering to.
Be Prepared to Answer Questions: Expect questions from potential supporters and be prepared to answer them thoughtfully and confidently. Anticipate the questions that might arise and have thought-out answers ready.
Make Your Needs Known: Clearly state your needs and give the audience an easy way to join your email newsletter and support team.
Build Relationships
Many people view fundraising primarily as "Friendraising". People give to other people, especially if they know and trust the other person.
Keep track of your potential and current supporters' essential information such as birthdays, children's names, or hobbies.
Send personal messages
Send an annual thank you letter
Congratulate them when they get married, have a child, etc.
Express Gratitude to Donors
Send Thank-You Letters: One of the simplest ways missionaries can express gratitude to their financial supporters is by sending personalized thank-you letters.
Host Donor Appreciation Events: These events can be a simple barbeque at someone's house or a restaurant.
Give them small cultural gifts from the area of service.
Tell them that the amount they give is significant and actually makes a difference in your ministry.
Missionary Support Raising Ideas
Engage with Churches and Christian Organizations: Connect with local churches, Christian organizations, and mission agencies to establish partnerships. Attend Bible studies, church gatherings, and other events to present your mission.
Host Fundraising Events: These can include charity auctions, benefit concerts, community dinners, or mission-themed seminars. Encourage attendees to bring their networks along to expand your reach.
Establish Crowdfunding Campaigns: Leverage the power of online crowdfunding platforms such as GoFundMe or GiveSendGo. Craft a compelling campaign page that highlights your mission's impact. Share the campaign with your network and encourage them to share it further.
Seek Support from Friends and Family: Start your support-raising journey by reaching out to your closest network. Share your mission with friends, family, and colleagues who are supportive of your cause. They can contribute themselves or provide connections to potential supporters.
Craft a Compelling Personal Story: Your personal story is a powerful tool to connect with potential supporters. Share your journey, your calling, and the reasons behind your mission work.
Missionary Fundraising Tips
Focus on building relationships rather than just asking for donations
Offer specific ways for supporters to partner with you, such as monthly donations or one-time gifts
create a detailed budget and timeline
Identify your fundraising goals
Ask for specific amounts
Craft a compelling mission statement
Ask your current supporters for referrals
Express gratitude to supporters
Be confident
Practice active listening to understand potential supporters' needs and motivations.
Memorize the names of your supporters' children.
Fundraise for a specific project
Free Editable Templates
Here are all the freebies included in this article.
We hope this article was helpful in your missionary fundraising endeavors. Please let us know if this was helpful and if you want us to create more editable templates.